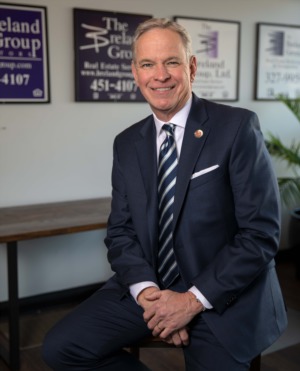 Lamont entered the real estate business in 1985 while a junior at the University of Louisville by borrowing $3,000 (co-signed by his dad) and purchasing a 5-plex in the Old Louisville neighborhood.  A year later, he purchased a 10 plex, and about 6 months prior to graduation, a 12 plex.  
After graduating from UofL in 1987, Lamont obtained his real estate license and then worked for several Louisville area real estate companies prior to obtaining his broker's license and forming Breland Group Realtors in 1995. Today The Breland Group has 49 licensed Realtors and two offices.
Lamont has also served the real estate industry and the community in many ways, such as:
 Served the Greater Louisville Association of Realtors in many ways, including:
Board of directors
Chair, Community Relations
Chair, Rookies
Governmental Affairs Committee
Advertising Committee 
MLS Improvement Committee, which oversaw vendor interview selection, and implementation of GLAR's new MLS system.
Strat Plan Committee
Technology Task Force
Building Improvement Committee.
2010-11 GLAR President.  
GLAR Realtor of the Year in 2014.
2019 Wall of Honor recipient. 
Co-Chair, GLAR Leadership Institute 2015-present. 
At the State level, Served KAR as:
Region 3 Director
Chair, Bylaws, Policies & Procedures
Chair, Investments
Chair, Personnel 
Finance Committee
Economic & Local Issues
Professional Standards
CEO Search Committee
2016 KAR President
2021-22 Move Up PAG
2020-21 DSA Committee
2020-21 Centennial Committee
2021 Kentucky Realtor of the Year
2022 Chair DEI Committee 
At the National level, Served NAR as:
2017-18 Realtor Party Member Involvement Committee (RPMIC) Chair for Kentucky.
2016 Risk Management Committee
NAR Delegate
2019-20 Leading Edge Advisory Board
2020/21 Business Issue Policies Committee 
2022 NAR Safety Committee
NAR Board of Directors 2019-24
 Outside of real estate:
Appointed to the 2016-17 Louisville Metro "Comprehensive Plan" committee which will map out a 20 year plan for the city's growth.
Current BOD member and past President of the Louisville Metro Police Foundation.
Current BOD member of the Blue Coats. 
Current BOD member of the Baptist Fellowship Center. 
Two term President of Kentuckiana Crime Stoppers
Former Deacon and Sunday School teacher at Hurstbourne Baptist Church.
Personally, Lamont has been married to Stacy since 1987 and they have three beautiful adult daughters, and two little grand-kids.